The Path:
The Inner Live of Jesus Christ
by Geoffrey S. Childs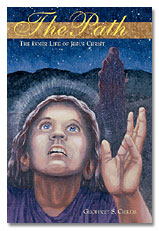 The Gospels record many of Jesus' words and actions. But what was going on in His heart and mind? One might think this is impossible to know. Yet 18th-century theologian Emanuel Swedenborg wrote that these secrets are described symbolically in the stories of the Old Testament. Geoffrey S. Childs presents a thoughtful and moving study based on Swedenborg's works. One by one, he unfolds the stories of Genesis, revealing the struggles, triumphs, and inner development of Jesus Christ as He forged a path of love and wisdom for us to follow.
To order from publisher: Fountain Publishing; from Amazon.
| | | | |
| --- | --- | --- | --- |
| ISBN 0-9659164-6-4 | Softcover book | 258 pp. | $12.95 |